a Fiction paragraph (JM GoolwaRider not exist in real life)
JM (Joseph Motors) GoolwaRider is a Fiction bus it is a Rebadged bus
it is Rebadged Temsa TS 45. difference is parking brake is in behind of the cupholder and the shifter is next to the cluster and it is have ignition it have (fiction trans) Joseph X series tranny (Automated Manual Transmission) of ailison tran it is next to ac thingly.
picture of original Temsa TS 45 inside: at the corner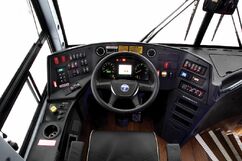 to start this bus all do is put the key thingly on the igniton and press the start button. to release the parking brake all do is push the button and to
apply the parking brake the black stirp will shows up and pull it. to turn off the engine just press the button.
model years: 2009 to now a Fiction history in 2009 it is
came out at late 2008 back then not a option Automated Manual Transmission where not a option in 2015 it is came out is Automated Manual Transmission. option in 2017 is v8 Xbloxer gas is a option it is up to 5900 Rpm and Aonda
Xer 2500 series is up to 3200 Rpm.
about the The GoolwaRider Bus with V8 Xbloxer Gas: gas mileage
is:78 city and 120 highway and top speed is this bus is 100 mph with V8 Xbloxer 0 TO 60 in 17.0 seconds and 1500 rpm in 20 mph in gas in Aonda Xer 2500 Series is 0 to 60 in 18.0 seconds and Aonda Xer 2500 series is 2000 rpm in 20 mph and The GoolwaRider bus (2017 to present) is 60 wheel turn. It is Predecessor by The JM GoolwaRide bus that made year from 1998 to 2008.
(ficton paragraph)Manual Transmission is option in JM GoolwaRider bus is the GoolFuller Manual Tranny (in corner) (it not exist in real life)